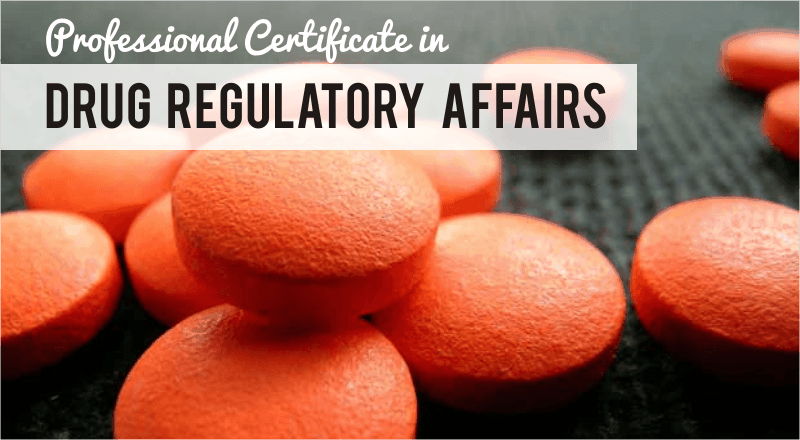 Drug Regulatory Affairs
About this course
Certification in Drug Regulatory Affairs-Drug Regulatory Affairs is the result of a government's desire to protect public health by controlling the safety and efficacy of products in areas such as pharmaceuticals, veterinary medicines, medical devices, pesticides, agrochemicals, cosmetics and complementary medicines.
The worldwide outsourcing market for regulatory affairs is expected to grow at the CAGR of 14.6 to 2040 and the industry is expected to reach $4.5B.
The Professional Certification in Drug Regulatory Affairs (PCDRA) course allows participants to acquire in-depth knowledge of the relevant global regulatory authorities and reporting requirements, regulation of medical devices, roles and responsibilities. The PCDRA course will help you to succeed in your profession as a Drug Regulatory Associate or an Executive.

Who Should Take This Course?
DRA Professionals

Aspirants (students/ working professionals) from following health science background: Pharmacy, Medicine, Dental, Nursing, Public Health, Life-Science, Physiotherapist, Traditional/ Alternative Medicine etc.
What am I going to get from this course?
5 high-quality learning modules with an online exam.

In-depth knowledge on Global Regulatory Authorities.

Learn Regulatory Requirements in Pharmaceutical.

Learn Medical Device Regulation with ICH Guidelines.

Learn roles and responsibilities of DRA Personnel.

Certificate and Performance Card on successful completion.

Opportunity to explore your career as Drug Regulatory Associate.